X Museum is designed to become a new cultural place for the younger generation in the city of Beijing. Contemporary art is constantly evolving in our time of endless information and their complex intersections. How should one shape our cultural spaces in response to such times of uncertainty?

TEMP aims to rethink how art spaces could be imagined first by asking the most basic questions as in how a painting should be hung on a wall. Custom made terracotta bricks are extruded with horizontal slots to which metal clips can be installed to hang artworks. Paintings, installations, projectors, and even white walls could be hung onto this wall system. There is an overflow of white and concrete box museums. X Museum offers a newer way of installing and showing artworks.

The letter X is used as the main symbol of the museum at the entrance as an intersection of two H-beams supporting each other structurally. The crossed-braced structure holds the large curving roof that is perforated to filter patterns of light into the entrance space. The diagram of the X composed of two lines is signified as the most basic form of interaction. The museum also dedicates itself to being multidisciplinary show not only artists, but also architects, scientists, engineers, musicians, and designers.



The South Façade is covered with a matrix of 54 steel light boxes. These protruded rectilinear structures cast an array of shadows onto the grey stucco wall. The angle and the lengths of the shadows constantly change throughout the day according to the solar position. Downlights are also embedded into the box to light up the façade creating another kind of pattern during the nighttime. These structures can also be used to hang large posters or displays that may be required by the museum for different events.

X Museum is an art space that encourages innovation and stimulates unknown possibilities. The design of the museum is a statement showing how a contemporary museum could be re-imagined. It is a one-of-a-kind center for creatives of all disciplines based in the heart of Beijing.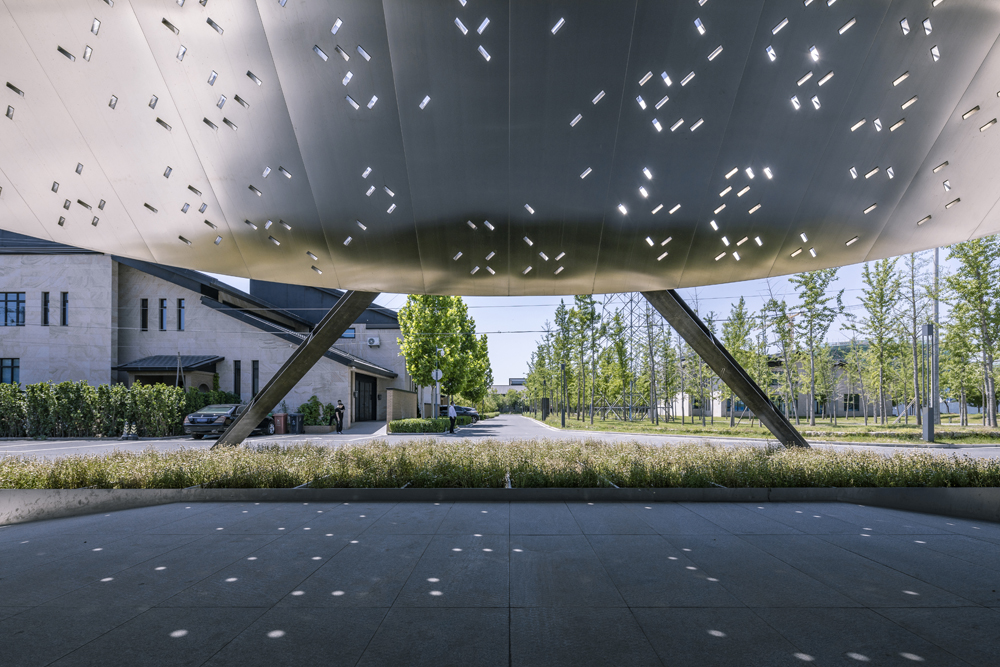 SOUL ART CENTER
798 BEIJING 2022

Founded by a former media executive, the art center is the latest establishment in Beijing's 798 district. Nestled in one of the buildings on the main street, it gets a touch of history symbolic of the Soviet-German-China industrial partnerships from the 1950s. In the 90s, these Bauhaus structures became the breeding ground for an emboldened artistic community, paving the way for a neighborhood hosting cutting-edge galleries and boutiques.

The project takes its name from "sòng 頌". Despite its similarity to *song* in English, it embodies more than the art of music. This poetic format originates from rituals that chant ode to higher beings with reverence.

No culture lives without rituals. Commissioned to give the space an ambitious new start, TEMP revitalizes the space with a drastically different approach from its previous tenants. Referencing ritual sites from across culture, the team carefully crafted an unassuming journey singing to art, an ode to its secular spirituality.



Grandeur Contemplation

At its entrance, shimmering glass bricks envelop the building's original red bricks, gracefully illuminating the juxtaposition of opacity and transparency, history and modernity.

A short narrow tunnel admits visitors with a sense of mystery. Circulation then splits into a lounge area on the second floor and a main exhibition hall on the first. As one strolls deep into the hall, the spatial volumes increase at each turn, dramatically opening up the vision for a hall of 8-meters high at its center.

TEMP designed curving overheads that gently weighs down the sawtooth roof from its industrial days. The repetitive waves, like clouds, hint at the changing sky seen through the skylights, allowing ethereal natural light to bathe the hall throughout the day.


A Ritualistic Journey

In all cultures, lights serve both practical and spiritual purposes. Where natural light doesn't hit, artificial lights continue to accord with a wholesome ritualistic experience.

Between the industrial framework and the new curving overhang, LED strip lights are installed behind the curves, washing up the vaults and bounce off soft light as the day winds down. Along stairs and pathways, up lights are fitted into narrow clefts, whispering fainting light of sedation.

Adding to this sanctuary of art are recesses of different shapes. Designed to frame art objects of various sizes, they draw the eyes and act as secular altars for art awaiting appreciation.

A contrast of neutral colors sets the character of the art center. Beige plaster and wooden floor create a warm environment that the founder envisioned for visitors. On the other hand, walls of ash grey lead them visually to secondary spaces like art shops and receptions.


Intimate Restoration

TEMP takes advantage of the unique 2-floor configuration to create further contrast. While the first floor encourages grandeur contemplation, the second inspires intimate restoration.

Partitions are installed to isolate smaller rooms from each other. TEMP stylizes their connections tenderly for a journey of curious exploration. Slit opening allows a sneak peek into a cloistered tea room, while steps, lower openings, and niches become scattered reminders of devotion.

As the founder endeavors to create a multidimensional magazine for art, TEMP combines flexible functionality and contemplative impression, one serving artistic creativity and another, humanistic yearnings.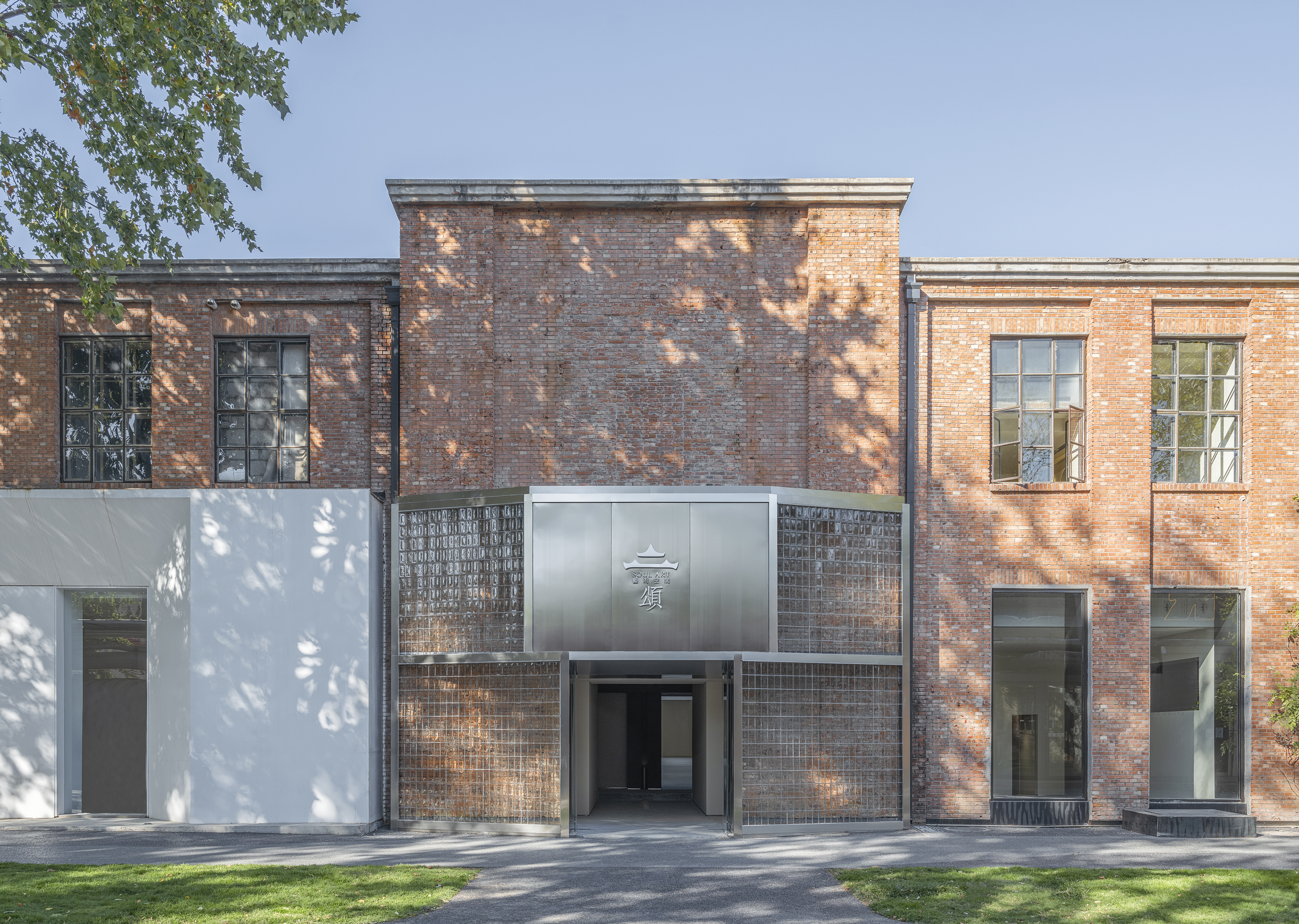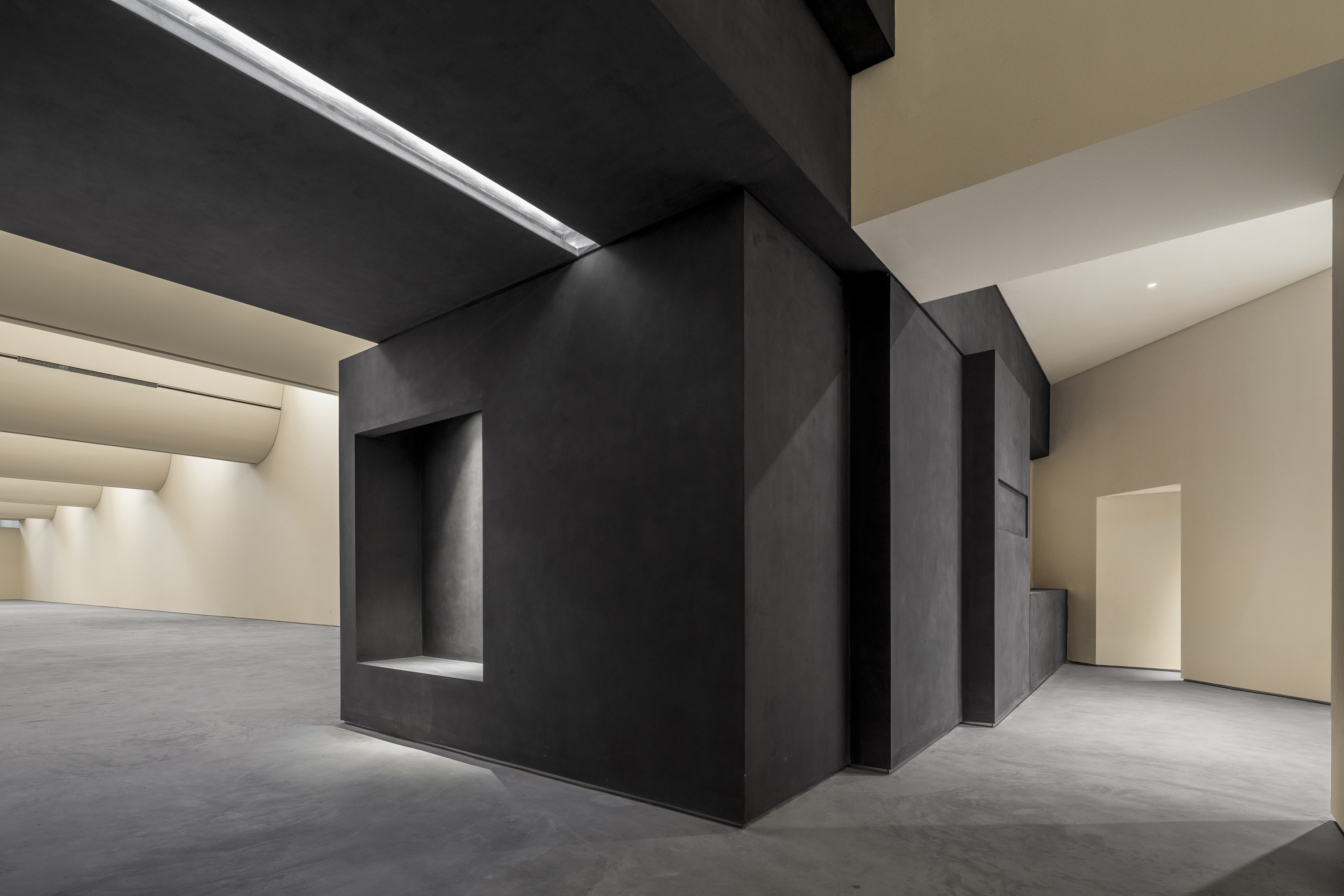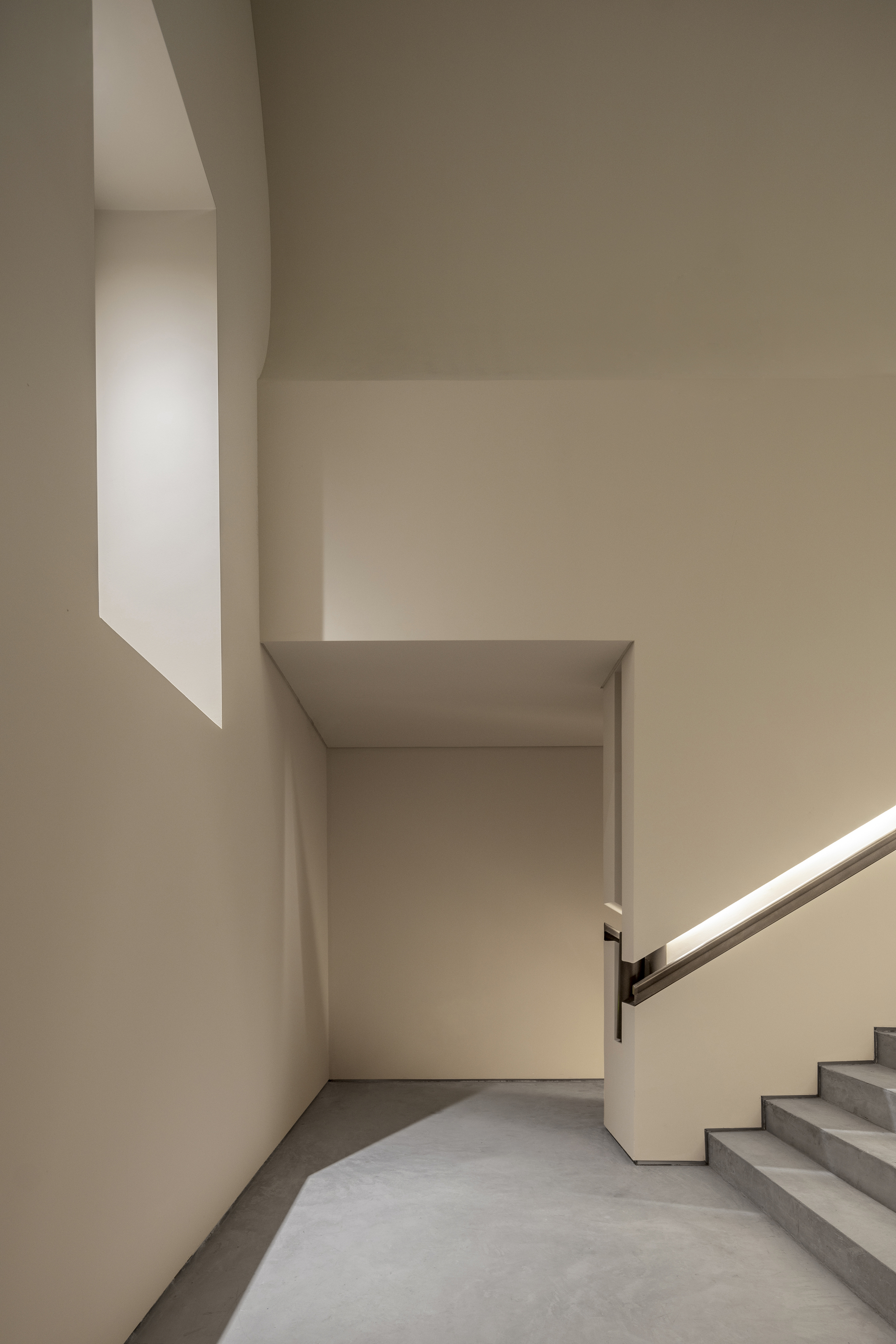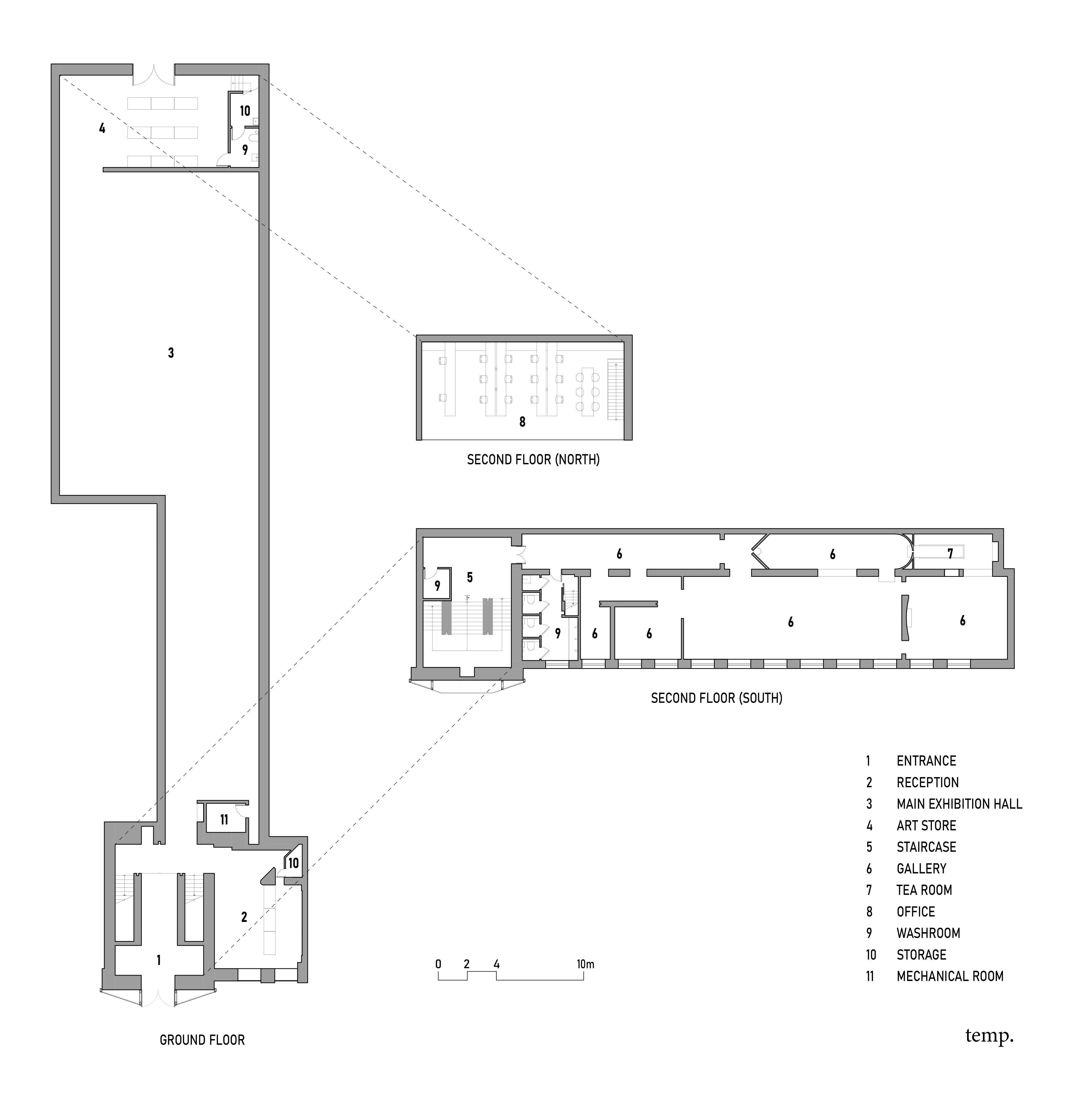 A menswear showroom takes cues from Shanghai longtangs with a twist of orderliness


TEMP has completed its collaboration with the menswear brand ATE SIMO, who will, together with other young brands, shape the new MIX320 creative vibe on the century-old Wuyi Road in Shanghai.

ATE SIMO is the brainchild of visual designer Liu Zehui (Ate) and fashion designer Lyu Shuo (Simo), who has been designing garments from his studio and selling them directly to customers online. The duo invited TEMP to create their first retail space that is functionally flexible yet true to the brand.



A rigging system inspired by old Shanghai longtangs


Sitting on the third floor of a restored building that neighbors a residential longtang, the store shares view of old laundry drying racks from upper-floor windows.

Echoing their retractable metal poles with a twist, TEMP conceives a playful rigging display system. Six horizontal bars suspend from the ceiling, each with a winch and pulleys for height adjustments. With a weight load of around 300kg and cables long enough for the poles to touch the floor, the system can adapt to the different heights needed by various clothing.

An ordered minimalism


One material, oak wood, panels the whole showroom, referring to ATE SIMO's devotion to materiality through minimal design. Laid sparingly, recessed shelves and steel electrical outlets are both functional and decorative, indicating the little-talked-about importance of hardware and openings in a piece of clothes.

The entrance seduces with a mix of order and ingenuity. An antiquated mechanic doorbell engages the visitor's hand, while a narrow opening offers glimpses into an organized wooden room with exposed steel winches. This multi-dimensional interaction exalts what's at the heart of ATE SIMO, that even in an age of mass-produced fashion, structural integrity through manual labor remains the timeless fundamentals of constructing garments.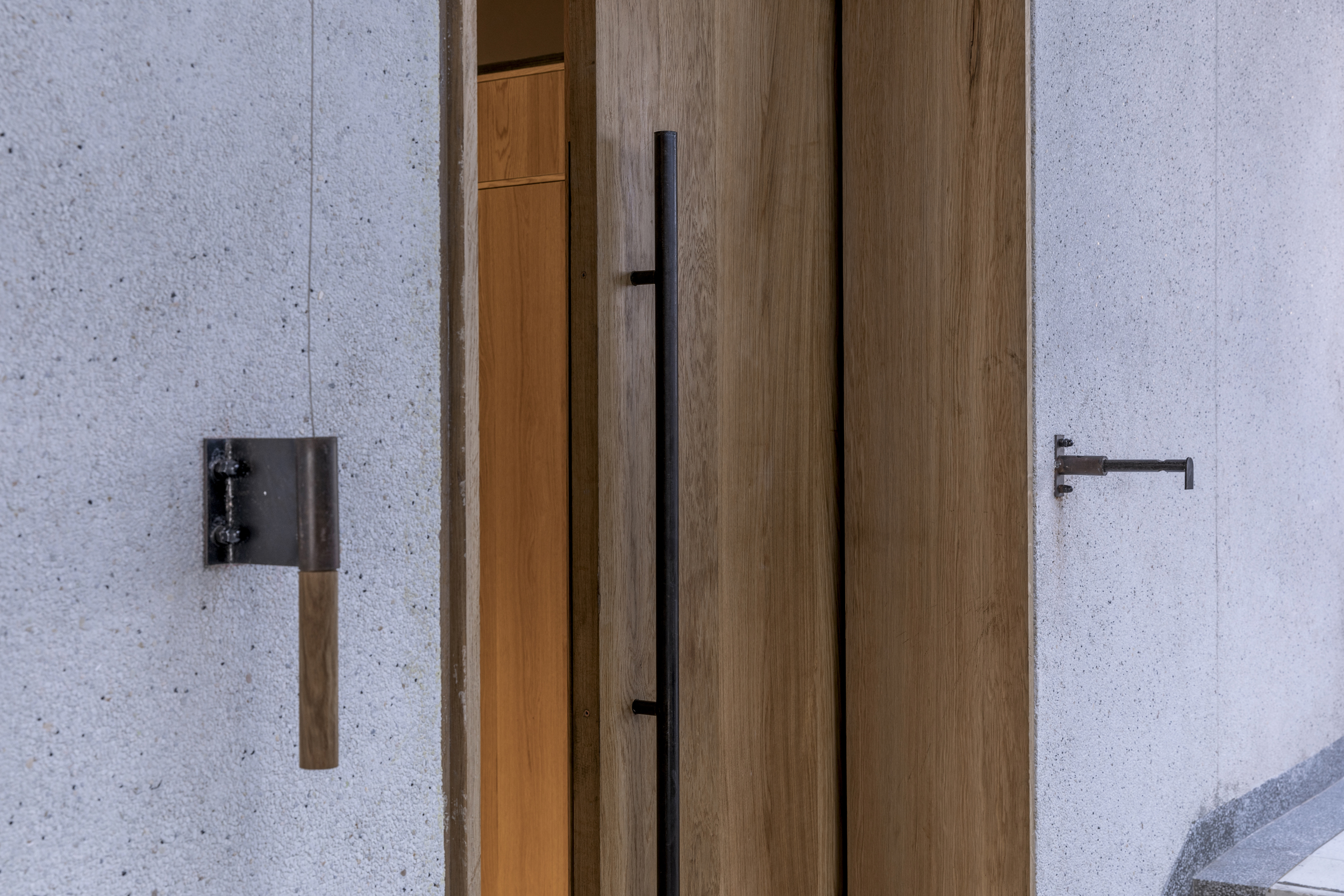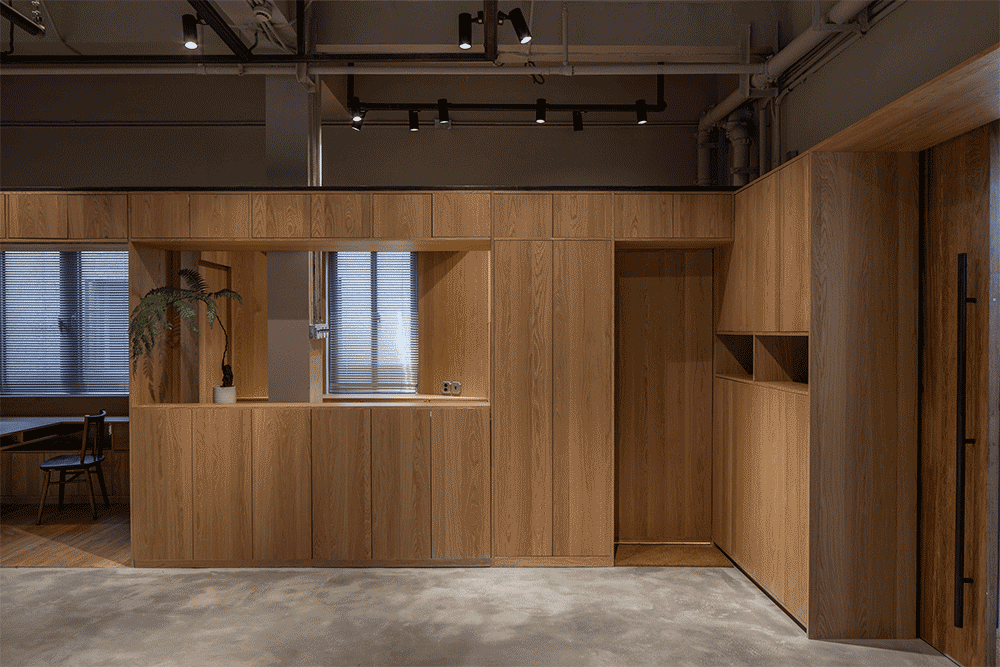 BETTER LIFE GROUP HEADQUARTER
BEIJING 2021

A Wooden Ribbon Binds A Factory's Industrial Past at A Car Dealership HQ


The new headquarter of BetterLife, one of the first car dealership conglomerates in China, is recently completed in Beijing, designed by TEMP. The plot sits within an industrial complex long owned by BetterLife, in which multiple structures have been used to showcase premium imported cars. The headquarter is envisioned as a hub for its strategic executives and members of its business community to exchange ideas and build partnerships amidst a fast-changing Chinese economy.



Binding Workforce And Time


Erected in the early 1970s, before China opened its economy, the building was designed to house manufacturing activities for metallurgy spare parts. As with most factories of the time, the utilitarian rectilinear structure is laid with red bricks in common bond, well-fenestrated with evenly spaced windows. Plenty of steel-concrete columns, truss, and beams throughout the interior remain to this day to support the building.

Its last occupant, a local architecture company, moved into the factory 20 years ago and added floor areas by extra mezzanine levels and a second story. Referencing historical architectural element, the last designer blew up a circular frame traditionally seen in Chinese courtyards, asserting a cultural character right across the lobby.

The new headquarter will not only be an office. Partners of BetterLife will visit to foster long-lasting business relationships, and employees will be here to explore potentials of a dynamic business environment. To adapt, entrance is refurbished with reflective stainless-steel box and column hang, under which a curvilinear wall band of grey bricks and step stones roll out beyond the building's original boundaries to draw attraction.

Unifying the space and adding solemnity, wooden railings are installed to connect and redefine the original structure's various levels of stairways and elevations. The same facing extends to its step seating and curves around the reception desk. The resultant dramatic wooden ribbon, against white walls and beams, flows through the hall and the extra-large circular frame. It elegantly acknowledges the contribution of its precedents, binding the remnants of time.






Next to the atrium, behind a glass partition, a large hall will seat employees from various departments. Green cabinets and work stations are organized around existing steel columns to set grid of an open plan layout. A railway-like system hangs sound-absorbing panels and suspended strip lighting, connecting the workforce visually and garnering spacious unity.



Contrast Of Lines And Scales


Amenities such as conference hall, café, and social areas are implemented with interest, adapting to the building's new occupants of managerial and strategic focus. Its new identity is not only one of innovation upon its ground but also an enrichment of the working experience with exploration, clarity, and perspectives.

From double-height porches to an intimate pathway leading up to a generous step seating and walkways, the journey through the headquarter captivates by its variation of scale. A central corridor on the second floor features a modulating number of arches with embedded track lighting, introducing visitors to various executive offices and meeting rooms. On the opposite side, a drastically different circulation sets off greatly in size with a narrow spiral staircase.



This curvilinearity, apparent in its arches, wooden ribbon, rounded step seating, and reception, softens the rigid industrial structure. Between the contrast of scale, lines, and past occupants, this renewed 50 years old edifice creates an office space that would be hard to attain on a contemporary high-rise, devoid of a ceremonial appreciation of time.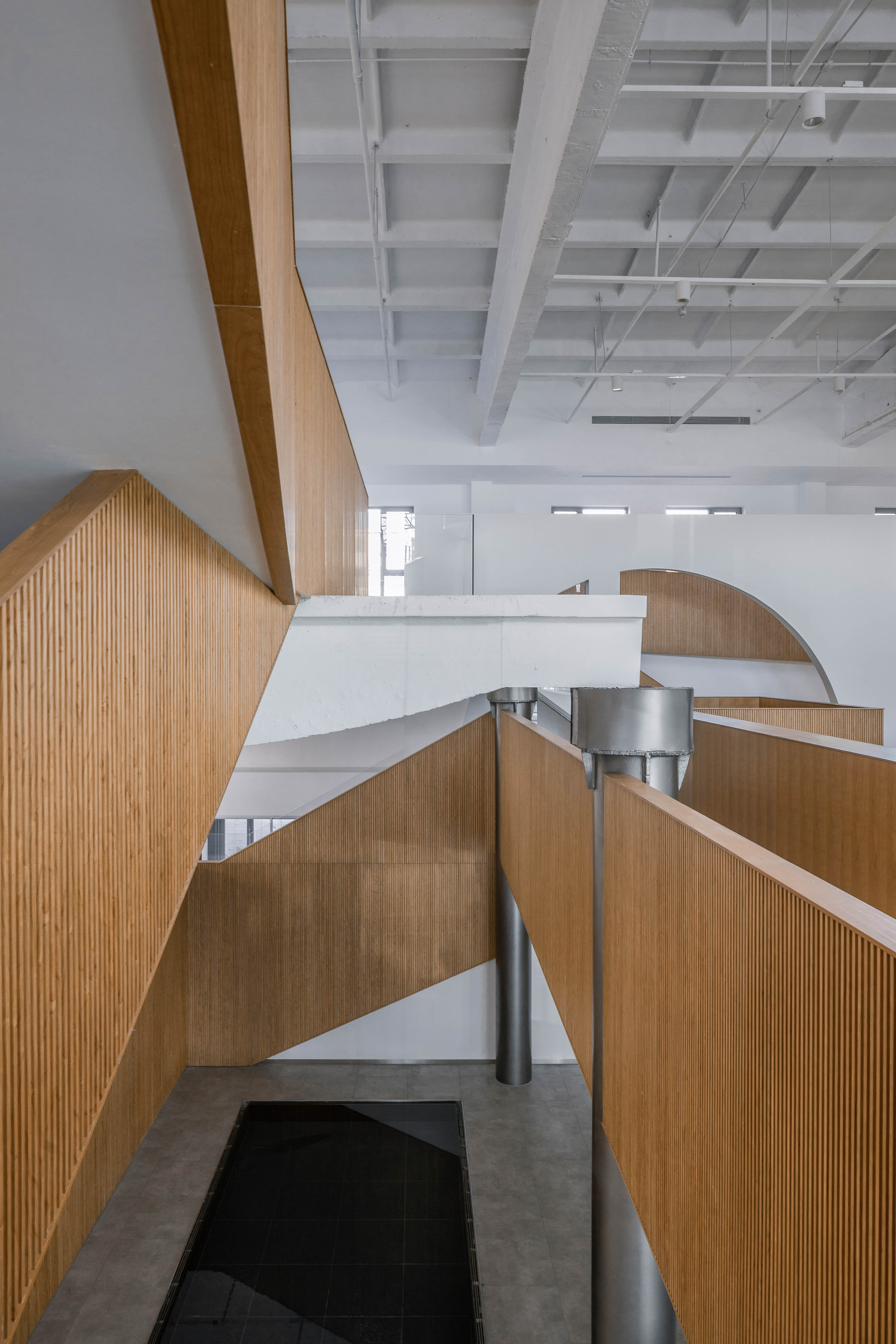 CLOUD ART CENTER
BEIJING 2021
A garden gallery of playful spectatorship in Beijing


Located by the fifth ring of Beijing, TEMP's latest project is an art center that will host exhibitions, meetings, and events. The area has transformed itself from a rural setting few years ago into a new arts and finance district. A few artists and museums have moved in, as does the local developer, who has occupied the site starting the business within a preliminary structure. As the development gained more propulsion, new programs needed to be fulfilled.



A gallery surrounded by gardens

TEMP takes advantage of its underused areas and elevates the compound into an oasis that draws the mind to contemplation and mystery. The new Center has only one floor, consisting of outdoor courtyards, a gallery hall, and offices. Interlocking yards now wrap around a revamped gallery, which is accessible from all gardens.

As the allure of the different artworks in the gallery, the pluralism of aesthetic ideals is reflected in various stylized courtyards, framing the interior and the outer world. Each of them embodies a slightly varying philosophy, from brightness to lushness, austerity to wildness.



The pluralistic landscape

A volumetric tension establishes a focal point at the street entrance, with its large almond-shaped rock stands upright, touching the roof. Behind it, raised wooden corridor lays out an inviting and ritualistic walkway. A few small maples and limestone sit quietly on the pebbles and stepping stones; the latter aligns with a serpent-like wall that slithers around the courtyard, creating multiple layers of space.



Another maple tree and a stone are fixed in a reflecting pool on the other side of the compound. Warm lights, water reflections, and openings at the foot and eye levels strike a chord of harmony on this quiet corner.

While the minimalism of trees and stones mark the restrained and uncluttered courtyards, abundance mark the lush and mysterious ones. An open field of foxtail wavers wildly with the wind, while another of bamboo and mirrors reflecting auditory and visual notes as one passes through.



Frames outside artworks

As Chinese gardens heavily play on intentional framing throughout the sequential experience of space, the Center also cut through different partitions mischievously and generously. It leaves room for mystery, artfully hidden as much as what is on display.

In the main gallery hall, privacy is ensured by ordered lines of white walls. Each area comes with artworks that soothe, inspire and provoke. They and the people in the room reveal bits of themselves through the cutouts of different heights and sizes.

Ample lights are filtered in and out through large windows. From the gallery, it offers an escape to the picturesque natural world. Whereas from the garden, the dynamics of people, and the warmth of artificial lights at dawn gives away an inviting worldlines.

A person sitting at a meeting room exchanging looks with another sitting on the elevated courtyard, either be the spectator or the actor. This play of spectatorship adds layers to the spatial dynamics, extending art to reality and intensifying their overlaps of enigma and solace.